L'ordinateur de Mike Quinsey est momentanément tombé en panne. Tout est entrepris pour une reprise de contact de sa part. Nous vous prions de bien patienter !

Entre temps nous avons décidé de mettre en place une collection de fonds spontanée sur les sites http://stevebeckow.com/ et http://galacticchannelings.com/ pour pouvoir lui acheter un nouvel ordinateur qui sera exempt de virus. En une seule journée, nous avons recueilli plus de 5000 $ !

Par la même occasion, nous voulons aussi attirer votre attention sur le site « Conversations avec SaLuSa » http://matthewfrancais.blogspot.com/ sur lequel SaLuSa répond à des questions de lecteurs par l'intermédiaire de Laura Tyco. Ces messages sont également traduits dans tous les langues.

L'équipe de Galactic Channelings et Steve Beckow


| | | |
| --- | --- | --- |
| | | |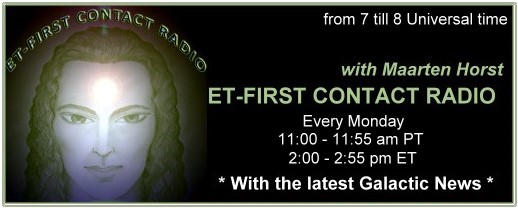 Every Monday night from 8 to 8:55 pm
channelings and related matters are being discussed on First Contact Radio.
The show is hosted by Dutch lightworker Maarten Horst and is presented in English.
Galactic Channelings
Create Your Badge


Join the Galactic Channelings Community on Tsū!
Tsū is the only social network that shares its revenues with its members.
It works through invitation only, so you can use this link
to create a profile.